Nestled in the heart of the vibrant Pacific Beach community, Woody's stands as a shining beacon in the realm of Pacific Beach restaurants. With a unique blend of coastal charm, mouthwatering cuisine, and a laid-back atmosphere, Woody's has earned its reputation as a true culinary gem in the Pacific Beach food scene.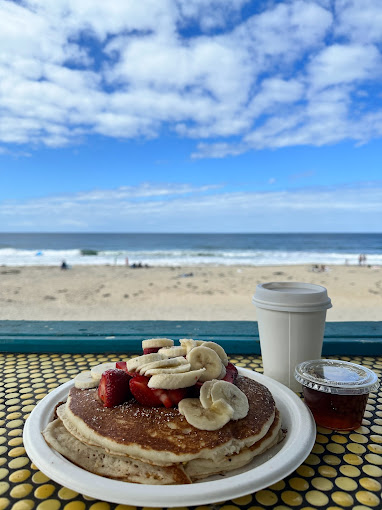 A Taste of Pacific Beach at Woody's 
As one of the leading Pacific Beach restaurants, Woody's offers visitors and locals alike a delectable opportunity to savor the flavors that define the unique spirit of the beachside community. Pacific Beach is known for its dynamic culinary scene, and Woody's stands out as an establishment that beautifully encapsulates the essence of the area. 
Breakfast at Woody's 
Woody's is known for its mouthwatering breakfast menu, making it a standout among Pacific Beach restaurants. Early risers and late brunch enthusiasts are treated to a variety of dishes that cater to all tastes. Whether that's fluffy pancakes, crispy waffles, french toast or scrambled eggs, Woody's has you covered. 
Lunch and Dinner with a View
Woody's offers a diverse array of lunch and dinner options. Whether that's a burger, spicy chicken sandwich, chicken tenders, caesar salad, chicken tacos, fish tacos, or a veggie burger, Woody's also has you covered. Though Woody's not only provides great Pacific Beach food but also a view that soothes the soul. As the sun dips below the horizon, diners can enjoy their meal while gazing out at the Pacific Beach, making Woody's a unique and cherished destination among Pacific Beach restaurants.
Your Woody's Experience Awaits
In the landscape of Pacific Beach restaurants, Woody's is a shining star. It combines the best of San Diego's coastal charm with a culinary experience that's second to none. If you're seeking a delicious breakfast, a nice lunch, or a memorable dinner with a view, Woody's is among the best of Pacific Beach restaurants to be at. 
To view Woody's menu's click here. If you have any questions please feel free to give us a call at (858)273-9663.