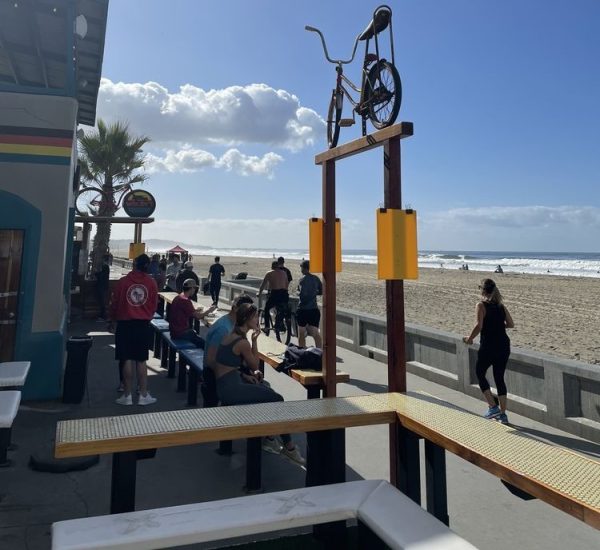 When it comes to hosting a private event, location is key, and there's no place quite like Woody's in Pacific Beach, San Diego. Nestled on the picturesque boardwalk, Woody's offers the perfect setting to bring your friends, family, or colleagues together for an unforgettable experience. In this article, we'll explore why Woody's is the ideal spot for your next private gathering, whether it's a morning meeting before a convention or a leisurely brunch after a busy day.
Location, Location, Location
Woody's prime location along the PB boardwalk sets the stage for an exceptional private event. Imagine the serene ambiance of the ocean waves in the background and the invigorating sea breeze as you gather with your guests. This unique setting provides an unparalleled atmosphere that encapsulates the beauty and essence of San Diego.
Morning Gathering and Brunch
Whether you're planning a morning meeting with your team or a post-event brunch, Woody's has got you covered. The sunrise at Pacific Beach is a sight to behold, and Woody's offers a front-row seat to this natural spectacle. Start your day with a freshly brewed latte and one of Woody's famous breakfast sandwiches, and you'll be energized and ready for your event. Alternatively, wind down after a busy day with a leisurely brunch featuring a diverse menu to suit all tastes.
Versatile Event Space
At Woody's, we understand that private events come in all shapes and sizes. Our flexible event space accommodates both small and large parties, making it the perfect venue for your next gathering. Whether you're hosting an intimate family celebration, a corporate meeting, or a grand soirée, Woody's can be customized to suit your needs. The stunning backdrop of the Pacific Ocean adds an extra layer of charm to your event.
Delightful Cuisine
What sets Woody's apart is its exceptional cuisine that keeps locals coming back time and again. Our menu features a delectable selection of sandwiches, burritos, and bowls that are sure to tantalize your taste buds. Each dish is a reflection of the vibrant culture and flavors of our community, making it a culinary journey through Pacific Beach.
San Diego's Culinary Diversity
San Diego is known for its diverse culinary scene, and Woody's proudly represents this spirit. Our menu caters to a wide range of palates, ensuring that everyone, from vegans and vegetarians to ardent burrito connoisseurs, finds a dish they love. The fusion of local favorites and fresh, quality ingredients result in a super SoCal selection that captures the essence of Pacific Beach.
Experience the PB Vibe
Woody's allows both locals and curious travelers to immerse themselves in the distinctive Pacific Beach vibe. We've curated a menu that showcases the essence of this vibrant community, ensuring that your private event is not only a gastronomic adventure but also a journey through the heart of San Diego.
Woody's in Pacific Beach, San Diego, is the ultimate destination for hosting a private event that your guests will cherish. With its unbeatable location, versatility, and mouthwatering cuisine inspired by the local culture, Woody's offers an unforgettable experience for all. Whether you're planning a morning meeting, a brunch, or any private event, Woody's is the place to make memories by the seaside. Don't miss the opportunity to embrace the true essence of San Diego at Woody's.